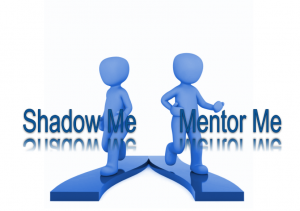 Shadow Me / Mentor Me offers a positive and engaging experience for all with a chance to meet new people, see what's different (or the same) in other departments/agencies, gain new skills and insight, work together.
Interested but not sure if it's for you? Here is what some of the participants have to say
Liz Rigg from Registers of Scotland
"I expected my day at CMA to be an interesting experience and it certainly was. I learnt about initiatives they have for getting colleagues involved with discussions about implementing change as smoothly as possible for all.
I'd recommend applying for the shadowing as it was a great learning opportunity with really interesting and useful discussions. Plus, the fact that it was only a half day meant that it was more possible to do."
Heather Shaw from Department for Work and Pensions
"I wanted to learn more about CS Local Scotland so applied to shadow them. I gained so much more than a shadowing experience, I would certainly recommend it.
The shadowing experience led to me becoming part of the project team for a Meet the Neighbours event and supporting an Academy family with their project.
This experience has certainly made me become more driven and eager to seek out further development opportunities".
Blair Fleming from Department for Work and Pensions
"Applying for a mentor is great for anyone seeking some help/advice or even just a push in the right direction. It has certainly helped me a lot and I now plan to do some job shadowing. The process is very easy to do, the list of names and bios is really useful in helping you decide who you think will fit best."
Other comments include:
"What I gained, other than the bigger picture, was the possibility of future employment and meeting some great people."
"From my mentor I got tips for an upcoming job interview which helped put me at ease and led to a really good interview.  Unfortunately I didn't get the job but the feedback I received was invaluable. My mentor also provides insights into how other departments work.  This is incredibly useful to work out my career progression."
Benefits of mentoring and job shadowing
There are proven benefits of job shadowing and mentoring which can be equally rewarding for both parties:
breaking down of barriers between departments
increasing the sense of a wider Civil Service 'community' and knowledge of any opportunities across Civil Service
helping to create contact networks for potential future use
opportunities for individuals to learn about other departments
opportunities to share knowledge and ideas, which can be applied to an individual's own business area
opportunities for personal development or a change in career direction
it count towards your five a year
good thing to do every now and again
How to get involved

If this has inspired you, we are looking for people across Scotland in all job roles to be shadowed and be mentors, as well as people to take up these opportunities

If this sounds like something you would like to participate in, please first discuss it with your line manager and then contact one of us for more information - Alistair Hill, Yvonne Robertson, Joyce Lawson  or Margaret Thomson-Moyes