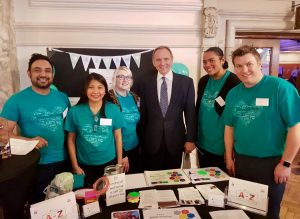 "The journey of a thousand miles starts with a single step" Lau Tzu
Back in July 2017 we were sat around a table at Wyboston Lakes, discussing ideas for a wellbeing project, on what would become the start of our journey as 'Team Chaffinch'on the Civil Service Local Junior Leaders Academy. As part of our year long project (which ended up being a 2 year project) we were tasked with creating a project that helps support the wider strategy to create a Brilliant Civil Service, one that supports and enables a 'Great Place To Work', we decided to focus on wellbeing.
A wellbeing toolkit created for civil servants by Civil Servants
We felt that there was a gap in the market for a toolkit that offers practical and fun guidance around wellbeing. We started looking at ways that individuals and teams can improve their wellbeing through fun and easy activities, and we set about researching the many examples of wellbeing that were already being used in local offices across the Civil Service. The premise of the toolkit would be simple: fun and easy ways to improve your wellbeing.
We launched the toolkit in July 2018 with our aptly named blog do the funky chicken a nod to one of the activities in our toolkit which has now been performed at numerous CS Local events, discovery days and also the recent One Team Gov Wellbeing Camp in June.
"Luck is what happens when preparation meets opportunity" Seneca
Following the launch of the toolkit we started off small, looking for opportunities to share the toolkit and its messages. We attended discovery days, wrote numerous blogs and articles and we linked in with groups such as wellbeing champions. We were lucky enough to be in the right place at the right time and went on to win the Civil Service Awards 2018 Health and Wellbeing Category, a Team Chaffinch highlight. We were also one of the 26 winners in The Charity for Civil Servants Community Awards 2018 and more recently we were the runners up in the Apolitical Workplace Award 2019 Mental Health Category, where we competed against 8 other countries' government initiatives. The highlight has been meeting John Manzoni twice, something which was on our Team Bucket List (an activity from letter B for Balance)
We never expected our journey to bring us to this point, and we never knew what to expect next, we just continually showed up every day looking for opportunities to share our message.
"Nothing is impossible, the word itself says I'm possible" Audrey Hepburn
Our journey has been hard work, but also equally fun. We are not experts in wellbeing, so we have had to be open to feedback and learn along the way. We have learnt that nothing is impossible, we have tried where we can to chase opportunities and get involved and we have always carried a good sense of humour throughout our journey, something which has put us in good stead for when we have been required to stand on stage in front of large crowds to demonstrate how to do the funky chicken. We never took ourselves too seriously and have always tried to put fun at the heart of what we do.
To celebrate the second year of our journey we have redesigned the A-Z to better wellbeing toolkit to bring together all of the latest information, best practice and success stories on wellbeing.  These can be accessed in one simple and easy click. As with the previous toolkit, the unique selling point of the toolkit is that we feature case studies from around the Civil Service. We have also created a second version of the toolkit in collaboration with the Civil Service Sports Council (CSSC) for members and their teams, which will be launched soon.
The toolkit includes:
26 wellbeing topics from A-Z in an easy to read format
featured wellbeing activities from journaling and walking to an exercise you can do at your desk, for you to try by yourself or with your teams
over 70 wellbeing ideas and suggestions
links to further learning including CS Learning courses, Ted Talks and printable guides
top tips suggested by our team and fellow civil servants
can be accessed both at work and on the go via smart phone and tablet
Using the feedback and suggestions you have given us, we have also included new topics, including:
chairobics: this includes the popular Funky Chicken activity
digital wellbeing: how having an awareness of being online can make us feel, looking after ourselves and others when online
financial wellbeing: making informed choices about your finances in the present and in the future.
relaxation through mindfulness: raising awareness of the benefits of mindfulness and featuring another CS Local academy group MYOB (Mind Your Own Business)
eXpanding your horizons: finding fun and easy activities that work for you, trying a variety of activities that you can turn to when you need to boost your wellbeing.
The A-Z to better wellbeing toolkit is now available for download, get your copy and let us know what you think
Do the funky chicken
And finally, it would be wrong of us not to end with the funky chicken, so here it is, as modelled by the lovely Lizzie Jelfs, one of HMRCs wellbeing champions.
Important information: before attempting this activity please consider your health and safety and ensure that you consider your level of experience, aptitude, training, and comfort level.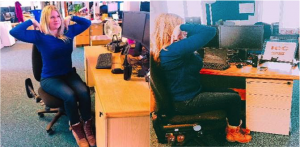 Loosen up your shoulders, chest and back by doing this 'funky chicken' exercise. It takes only a minute and releases a lot of tension in your upper body. It can be done from either a sitting or standing position.
Place your fingertips on your shoulders, elbows pointing out to the sides. Then pull your elbows back as far as you can. Push your elbows forward and try to touch them together. Repeat 10 times.
Now, keeping your fingertips on your shoulders, lift your elbows up and then push them down to your sides, as if you're trying to fly. Repeat 10 times.
Thank you
We hope you enjoy the toolkit and we would like to say a massive thank you to everyone that has supported our journey and provided content and case studies for the toolkit and to Civil Service Local who gave us this wonderful opportunity through their  Junior's Leader's Academy.