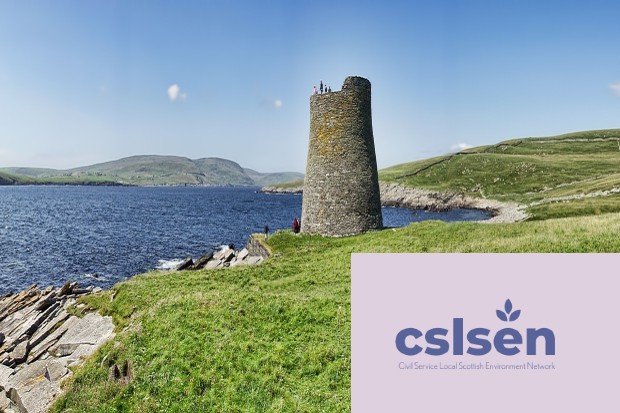 CS Local are working hard to ensure that all our localities have an active environment network.  The Civil Service Local Scotland Environment network reformed in December 2020 with the aim of getting some like-minded people together who were interested in what they could do to help stop climate change and help protect our environment.  We started with producing a vision statement for our group
'To educate and build awareness of environmental issues and to help our colleagues understand what steps as individuals and as a collective they can take to help reduce their carbon footprint and protect our environment for future generations'.
6 months on we have a growing and healthy membership with a monthly newsletter on all things environment with a wide readership.  We have run a couple of environment themed competitions and a programme of environmental monthly lunch and learns sessions, details on the next sessions are below -
World Ocean Day –4 June 2021
Join Catherine Gemmell, Scotland Conservation Officer for the Marine Conservation Society, as she shares her Ocean Optimism and the important work this charity is doing to recover, protect and celebrate Scotland's incredible seas in the run up to this years World Ocean Day on the 8 June. Catherine will focus on her work area of marine litter and will share stories of how citizen science has helped change important policy to start turning the plastic tide hitting our shores as well as sharing some ideas on how we can all help too from our living rooms to the beach.
When is it - Friday 4 June 2021 12:30 to 13:15
How do I join - register for your ticket on Eventbrite 
How to Take part in World Environment Day Litter Pick
When is it - 7 June 2021
To get involved and find out more register on Eventbrite 
Embrace Greener Travel - Electric Vehicles and E-Bikes - 2 July 2021
Electric vehicles are part of the here and now. Both the Scottish and UK Governments are working towards meeting emissions targets and Home Energy Scotland invites you to learn more about living with an electric vehicle. This interactive workshop will cover the contribution electric vehicles make to combating climate change and aims to deal with any concerns you may have about ownership.
E-Bikes have made it easier to take advantage of the benefits to personal wellbeing and the environment that cycling brings.
We will look at how they work, the unique factors to consider, and how they have made cycling more accessible. We will also cover the Scottish Government funding to help residents in Scotland purchase e-Bikes.
Home Energy Scotland is the free and impartial advice service managed by the Energy Saving Trust and funded by the Scottish Government. We aim to help you to save money and improve the environment by looking at how you use energy, water, and how you get about.
When is it - Friday 2 July 2021 12:30 to 13:30
How do I join - register for your ticket on Eventbrite
Please do join us for our upcoming events and if you would like to know more, or subscribe to CS Local Scotland Environment network newsletter please contact Jenny.Dee@dwp.gov.uk
If you are based in other parts of the UK feel free to join any of the above sessions and please see the links below for more information for your area.
North East, Yorkshire and the Humber  will be launching their Environment network on 8 July, watch the CS Local blogs for more details alternatively email the team to join the network cslocalneyh@cabinetoffice.gov.uk. 
Northern Ireland - do not currently have a network but if you are interested in setting one up then email the team.
If you would like to know more about CS Local in Scotland and Northern Ireland and what we have to offer please contact us at CS Local.