My involvement began in 2014, when one of my managers returned from the Leaders of the Future Academy full of enthusiasm. I then attended a celebration event at Kirkham prison and was inspired by the passion and commitment of the speakers, who had worked on projects that added significant value to citizens. They had engaged with school children about their work and helped at critical periods in their development, supported offenders in their return to life outside prison, and spread best practice across departments. Learning that CS Local wanted someone from the Legal Aid Agency to join their steering group, I decided to get involved myself.
I have attended a number of discovery sessions, and I would recommend them to anyone. An excellent half-day session in Preston called "Engaging with our future" was perhaps my favourite. One of the guest speakers was Naomi Stanford of the Department for Work and Pensions, who spoke about how government services need to be designed around citizens, and about the advantages offered by digital technology. Suitably inspired, the audience discussed issues and possible solutions in the "World Café" format developed by CS Local NW, all of us learning more about engagement, no matter how well our organisations had scored in staff surveys. This led to collaboration between Legal Aid and a colleague from another department about engagement – evidence that the session worked.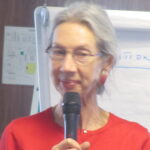 These activities add real value in other ways, paying back the time delegates spend at events. We work on the basis that £300 is saved for every half-day per person, in terms of more effective, efficient ways of working. Looking at some of the best practice that has come out of discovery sessions, and the talent we all have in-house without recourse to external consultants, this is certainly achievable.
I attended the new Middle Managers' Academy that CS Local NW are piloting this year. It was really encouraging to see how many people increased their confidence in both their group work and their presenting skills as the week progressed. It was a pleasure to help facilitate their discussions, and to see how well they handled the pressure.
The story of how Kathie Bates and her team have built up CS Local NW, starting with a clean sheet of paper, has been a motivating one for me. Joining the preparation for Civil Service Live in Manchester last year showed me how well the team work together, turning their hands to whatever needed to be done. There were plenty of visitors to their stands, workshops were well-attended and people learned from each other's ideas and initiatives.
Kathie and her team presented the North West framework for 2015-16 to the steering group, explaining about the overarching aims of developing people, supporting citizens in areas of multiple deprivation and connecting people from different parts of the Civil Service. The activities are wide-ranging, from working with citizens in schools, prisons and hospices, to the cross-government collaboration that up-skills our people and leads to better ways of working.
Civil Service Local inspires people - it inspired me to work at a food bank for the first time. It supports Civil Service transformation by promoting cross-government collaboration, and it contributes to government targets for apprenticeships and volunteering. I've seen examples of more being delivered for less.
It became clear to me during my time with Civil Service Local North West that, if you are willing, there are considerable personal and career benefits to be gained, as well as the opportunity to deliver better services for the people we are here to serve – our citizens.