On 26th March, The Universal Peace Federation - UK held a special International Women's Day event at the Houses of Parliament. The 2018 theme was #PressforProgress, and their invitation asked us to:
Imagine a world where a female, no matter her age, can participate in politics, receive an education, have her own income, and dress and speak with no fear of discrimination or violence. Imagine a world of equality and acceptance. The greatest achievements, accomplishments, studies, movements, amongst others all began with the start of an idea. It was the dedication and free will of the individual and/or groups to spread their ideas that make it into reality. They made it happen. Collectively we can all play a part.
Vanessa Kirk from Civil Service Local Midlands attended and gave us her account.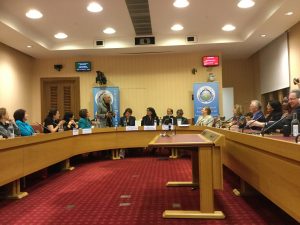 The Speakers and their key messages
The women's day event was hosted by The Rt Hon Baroness Sandip Verma. She talked about the importance of having self belief and stated:
We cannot achieve parity unless we are all in it together, no them and us.
Dr Marina Nani (Founder and Executive Director of Radio W.O.R.K.S.) spoke of her goal to create one million female entrepreneurs, to empower women and help society recognise their success. Her important message was to:
Self empower and leave the door open behind  you to empower others.
Mary Keightley is a coach for corporate executives and expert in resilience. She emphasised the importance of working alongside men and understanding and learning from gender diversity. Her message was to:
Be 'defiant' and a little 'disruptive'
Carole Stone CBE (formerly a producer of  BBC Radio 4's current affairs programme 'Any Questions') has been called Britain's most well connected woman. She says networking is the secret to her success:
Nothing should hold you back, you can do it!
The event was closed by The Rt Hon Baroness Anne Jenkins.  She spoke about the importance of standing on the shoulders of giants in this lottery of life:
Women's life experiences are different and we must have that difference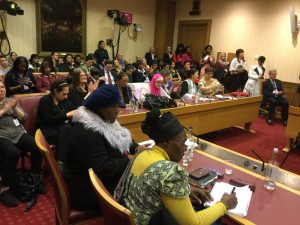 These powerful and influential female speakers and the room full of attendees, all so passionate about equality and gender parity, made the event such a success.
Inside the Houses of Parliament
The history and architecture of the Houses of Parliament enhanced the enjoyment of the day:
I walked through into St Stevens Hall where The House of Commons sat until a fire in 1834.  A highly impressive and essential part of the Houses of Parliament. It has intricately tiled floors, high ceilings with a gigantic chandelier. Arches surround huge windows and the stained glass windows are magical. Statues of kings and queens of England and Scotland from Edward I are all lined up either side of the hall.
The Central Lobby then follows, which is the crossroads between The House of Commons and The House of Lords and this is where the suffragettes had their scuffles.
Want to know more about Civil Service Local?
If this blog has inspired you to join us, or if you'd just like to know more about what we do, please contact me.